Friends and Honors Garden
True honor comes from what we give…not for what we receive, the position we attain, or the title we hold.
The Friends and Honors Garden is a  beautiful flower, tree, and shrub garden complete with trellis work and water fountain.  The purpose is to recognize friends of the Foundation for major contributions.  The garden features a block and brick walkway leading to and throughout the various plantings.  The main attraction in this beautiful and peaceful setting east of the Memorial Building is the three 6′ x 10′ granite-clad walls for permanently inscribing recognition for the donors.
Donations are accepted from individuals, clubs, and businesses who wish to honor, appreciate, or memorialize someone or themselves.  There are two donating levels.  A donation of $5,000 or more donation provides the donor with a 12 x 12 diamond-shaped block.  A donation of $2,500 to $4,999 provides half a diamond.  Wish List and material items qualify for recognition as long as the minimums are reached.
A special note to Wisconsin Lions, Lioness, and Leo Clubs:
Donations to the Friends and Honors Garden are not to take the place of your annual donation.
Donors have the opportunity to designate how their donation is to be used.  As an example, a donor may wish that all their funds be used for expense of the Garden.  They may also direct a portion of all fund to be used for a specific project.
Samples of engraved diamonds appear below: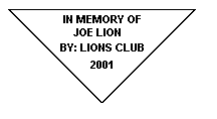 Friends & Honors Garden Order Form
If you have any questions about the Friends and Honors Garden, please e-mail lshelley@wlf.info or call Wisconsin Lions Foundation at 715-677-4969.