Your old eyeglasses can bring the world into view for a person in need
If you would like to donate used eyeglasses, please send them to the Eyeglass Recycling Center at 3834 County Road A, Rosholt WI 54473 or email us at wilionserc@wlf.info for a collection site near you.
100,000
distributed/year
The WLF Eyeglass Recycling Center is one of only 18 Lions Clubs International Certified Recycling Centers in the world.
Annually, 500,000+ pairs of used eyeglasses are processed at the WLF Recycling Center to be sent on Missions to developing countries across the globe.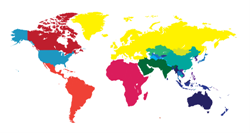 EYEGLASS MISSIONS DELIVER SIGHT
Eyeglass Missions, conducted by Lions & others, distribute your recycled eyeglasses to developing areas that have little or no access to eye health services.